---
The long-awaited investigative report into the FBI's handling of the Hillary Clinton email investigation was released Thursday by Justice Department Inspector General Michael Horowitz, and as expected it contained a number of bombshells.
The most important finding — so far, at least — is a text exchange in August 2016 between demoted FBI counterterrorism official Peter Strzok and his one-time paramour, former FBI lawyer Lisa Page.
Page asks, "He's not ever going to become president, right? Right?!" in reference to then-GOP nominee Donald Trump. 
Strzok's response, quite frankly, is chilling: "No. No he's not. We'll stop it." (emphasis added) 
There is no indication, yet, who "we" is or what all was done by Strzok and his inferred accomplices. What we do know is that this exchange took place just days before Stzrok and Page discussed an "insurance policy" that was being implemented to prevent Trump from taking office. 
"I want to believe the path u threw out 4 consideration in Andy's office-that there's no way he gets elected-but I'm afraid we can't take that risk. It's like an insurance policy in unlikely event u die be4 you're 40," Strzok wrote during that August 2016 timeframe. "Andy" was very likely fired FBI Deputy Director Andrew McCabe.
There's more nefariousness involving the "we'll stop him" exchange. 
In recent months and after no small amount of haranguing and threats by various congressional committees investigating Spygate and the Hillary Clinton email debacle, the FBI and Justice Department turned over reams of documents and transcripts of text messages including those exchanged by Strzok and Page.
Page's text, where she's asking whether Trump will ever become president, is included in those documents. But Strzok's response is missing. 
See below: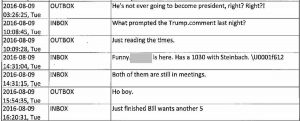 That means someone deleted the message either from the transcripts or never included it in the originals — a blatant attempt to hide it from Congress and the American people. (Related: Is he SERIOUS? Sessions says more firings on the way if NEED BE following explosive DoJ IG report)
What Strzok's text constitutes, as well as the intentional acts he and others took to undermine Trump's candidacy and his presidency, amount to nothing short of treason in the minds of many — including Natural News founder and editor Mike Adams, the Health Ranger. Watch:
What constitutes treason these days?
The new Strzok text revelation did not sit well with many members of Congress who, again, have been pressuring the Justice Department and the FBI for a full accounting of what went on in the final months of the Obama administration and the first several months of the Trump administration.
One of them is House Freedom Caucus Chairman Mark Meadows, R-N.C. Following the release of the report, he tweeted: "Lisa Page text to Peter Strzok: "(Trump's) not ever going to become president, right? Right?!" Strzok reply: "No. No he's not. We'll stop it." This Peter Strzok text about "stopping" Donald Trump was hidden from Congressional investigators. We never had it. Absolutely unreal."
He then asked some very pertinent questions, again via text. 
"I've initially reviewed the IG report–two questions are most pressing: 1) Why is Peter Strzok still employed? 2) Why has Rod Rosenstein repeatedly failed to promptly inform Congress of improper conduct?" he wrote.
Great questions, for certain, and let's hope he gets satisfactory answers for them. But again, why hasn't Strzok been arrested and charged with not only betraying his oath of office by betraying his country through the undermining of a duly-elected president? What does it actually take to be charged with treason these days?
Attorney General Jeff Sessions, Deputy Attorney General Rosenstein and FBI Director Christopher Wray have a lot of explaining to do. Congress — and the American people — cannot let this pass without ensuring the guilty are held accountable.
Read more about this at Treason.news.
J.D. Heyes is a senior writer for NaturalNews.com and NewsTarget.com, as well as editor of The National Sentinel.
Sources include: